Discover an RV inventory financing partner with competitive rates and strong relationships.
At Northpoint Commercial we're dedicated to helping you succeed, whether you're a manufacturer, or dealer. We take pride in answering your calls and making you feel at home, because that's how we believe business should be done. We'll listen and work to create flexible solutions that work for your unique business. That's why we've been trusted to work with hundreds of RV manufacturers and dealers across North America. So give us a call to see what we can do for you. We know you'll enjoy working with us.
Jeff is a highly dedicated inventory finance leader, having spent his entire career working closely with retailers and manufacturers across the United States.
For over four decades, Jeff has worked tirelessly in many areas including relationship sales, senior management and national accounts serving and promoting his customers and colleagues within both the Recreational Vehicles and Manufactured Housing industries.
Jeff's consistent support for the industries he serves is evidenced by his participation in numerous industry, state and dealer associations including RVDA, RVIA, and MHI. Jeff is also is an active member on RVIA's Financial Services Committee.
Having spent his entire career in the floorplan finance sector, Jimmy brings a wealth of experience. He prides himself on building long-term meaningful relationships by listening to our client's needs and trying to tailor solutions to help them succeed. For the past 19 years, Jimmy has worked in many facets of the floorplan industry by taking on various relationship and operational management roles. Before joining Northpoint, Jimmy started his career with Textron Financial Corp and most recently leadership roles at Cox Automotive. Jimmy now spends most of his time working closely with our manufacturers, understanding their growth needs along with supporting dealer and manufacturer events throughout the year.
Jimmy is excited to represent Northpoint as a market leader with participation within the Recreational Vehicle Industry Association, the Recreational Vehicle Dealers Association, and the Manufactured Housing Institute.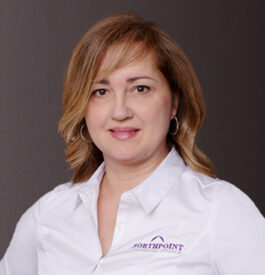 As Vice President of Business Development, Chantal Robin is responsible for leading the Canadian sales team and fostering manufacturer relationships in that market. With over 30 years of sales and operational leadership experience, Chantal has a track record of building and guiding successful teams in the finance industry. Before joining Northpoint, she held high-level positions at TCF Inventory Finance.
Sorry, no posts matched your criteria.
Backed by Laurentian Bank
With Northpoint's foundation and reputation in the industry built, Laurentian Bank, which has been in business for over 170 years, acquired Northpoint Financial in 2017. With over $45 billion* in assets, a solid cultural alignment and variety of financing solutions, Laurentian Bank ensures stability for the foreseeable future while allowing Northpoint Financial to maintain its personal, flexible approach.