Discover flexible financing for an expansive portfolio of products from the name to know in trailer floorplan financing.
Discover a lender where expertise and ease of doing business meets an expansive product portfolio. No matter the type of trailer you're trying to find floorplan financing for, you can find a solution that works for your business at Northpoint Commercial Finance. Northpoint offers flexible financing for a breadth of products that's unmatched by other lenders. From cargo trailers to horse and utility trailers, Northpoint can meet your business's unique inventory financing needs. And we have experts with decades of experience working in the trailer financing industry, so you'll always be able to speak with someone who is knowledgeable of your business and knows how to make a solution that will work for you. Give us a call today to see what we can do for you. We know you'll enjoy working with us.
Darren brings years of specialty finance experience having spent the majority of his career developing and launching custom, and often exclusive floorplan programs in the trailer, powersports, construction and music industries, to name just a few. Darren was recruited to join the Northpoint team shortly after its inception and has leveraged numerous industry relationships and market knowledge to build a substantial portfolio of industry leading suppliers. Darren's career began at Chrysler Financial and includes senior leadership roles at Bank of America, Textron Financial Corp and Douglas-Guardian Services Corporation.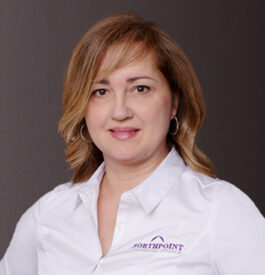 As Vice President of Business Development, Chantal Robin is responsible for leading the Canadian sales team and fostering manufacturer relationships in that market. With over 30 years of sales and operational leadership experience, Chantal has a track record of building and guiding successful teams in the finance industry. Before joining Northpoint, she held high-level positions at TCF Inventory Finance.
Sorry, no posts matched your criteria.
Backed by Laurentian Bank
With Northpoint's foundation and reputation in the industry built, Laurentian Bank, which has been in business for over 170 years, acquired Northpoint Financial in 2017. With over $45 billion* in assets, a solid cultural alignment and variety of financing solutions, Laurentian Bank ensures stability for the foreseeable future while allowing Northpoint Financial to maintain its personal, flexible approach.