From small skiffs to luxury yachts, say hello to an expansive portfolio of flexible inventory financing options.
When you come to Northpoint Commercial Finance for your marine inventory financing needs, we don't just tell you what we offer — we listen to what you need. Whatever your unique needs are, we'll listen and work to create flexible solution that works for your unique business. Our industry expertise runs deep, having worked with hundreds of OEM's and thousands of dealers across North America through both record-breaking years and a few challenging times as well. We are passionate about what we do and strongly committed to serving and supporting the Marine industry. So give us a call to see what we can do for you. We know you'll enjoy working with us.
Russell is a true industry veteran having spent a significant portion of his career in Marine inventory finance, most recently as Marine Division President at Textron Financial. When tasked with launching Northpoint's Marine program in 2012, Russell sought to create a highly customized and personal approach that the mega banks simply could not deliver. Drawing on his substantial industry relationships, Russell quickly established Northpoint as a market leader with genuine support from some of the top dealers and OEM's in North America.
Russell proudly represents Northpoint as an active member of the National Marine Manufacturers Association and Marine Retailers Association of the Americas.
John joined Northpoint in 2014 bringing a wealth of inventory lending experience across a variety of industries. After assisting in the launch of several Northpoint product segments, John turned his attention to our Marine customers to support tremendous industry demand. John's deep knowledge in multiple functional areas adds great value in ensuring we deliver exceptional service throughout the dealer experience. His commitment to being a true partner to OEM's and dealers is unmatched in the industry.
John's career includes executive leadership and business development roles at ITT Commercial Finance, Textron Financial Corp and Wells Fargo Advisors. At Northpoint, John spends a significant amount of time in front of our customers, listening and learning about their business and attending and supporting countless dealer and manufacturer events throughout the year.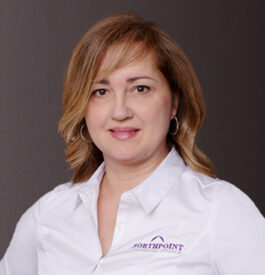 As Vice President of Business Development, Chantal Robin is responsible for leading the Canadian sales team and fostering manufacturer relationships in that market. With over 30 years of sales and operational leadership experience, Chantal has a track record of building and guiding successful teams in the finance industry. Before joining Northpoint, she held high-level positions at TCF Inventory Finance.
Sorry, no posts matched your criteria.
Backed by Laurentian Bank
With Northpoint's foundation and reputation in the industry built, Laurentian Bank, which has been in business for over 170 years, acquired Northpoint Financial in 2017. With over $45 billion* in assets, a solid cultural alignment and variety of financing solutions, Laurentian Bank ensures stability for the foreseeable future while allowing Northpoint Financial to maintain its personal, flexible approach.